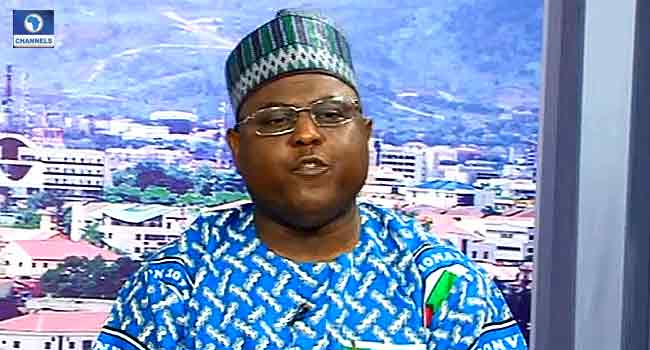 The spokesman of the House of Representatives, Abdulrazak Namdas, has defended the National Assembly against criticism for the delay in the passage of the 2018 budget.
As far as he is concerned, the blame for the delay rests squarely with the Executive, especially Ministries, Departments and Agencies (MDAs) of government.
Namdas stated this in Abuja while appearing on Channels Television's breakfast show 'Sunrise' on Saturday.
"In April, six months after the budget was brought, the executive was presenting certain provisions that we should accommodate in the 2018 budget," he said.
"And if we had not accepted it, the story would be that we want to frustrate the (Federal) Government. We also decided to accept it in the spirit of working relationship. So we were still receiving submissions from the executive even five months after the budget was presented."
Namda's comments come three days after President Muhammadu Buhari signed the 2018 Appropriation Bill into law.
Assenting to the bill on Wednesday, the President faulted the National Assembly for reducing allocations for some projects and including thousands of projects into the budget without consultation with the Executive.
But the lawmakers justified the changes made to the budget and criticised the Executive in a statement on Friday, with the Presidency firing back hours later.
The President had on November 7, 2017, submitted the 2018 budget proposal of  N8.612 trillion to the National Assembly for consideration and early passage.
However, the lawmaker increased the proposal by N508 billion, bringing the total figure to N9.12 trillion before passing it in May.
Namdas is surprised that the National Assembly is being blamed for the delay.
Pointing out that it was public knowledge that the heads of MDAs of failed to appear before the lawmakers to defend the budget estimates, he recalled that it took the intervention of President Buhari before they defended their estimates.
He added, "The budget came in November. Five months after the budget was presented, President Buhari directed the Secretary to the Government of the Federation to also direct Chief Executives of Ministries to appear before the committees of the National Assembly.
"When we cried out that the Chief Executives were not appearing, people thought that we were joking. Later the President saw the need. So if after five months, we have Chief Executives who have refused to appear before us, how would we have concluded with a budget as fast as people were expecting?"