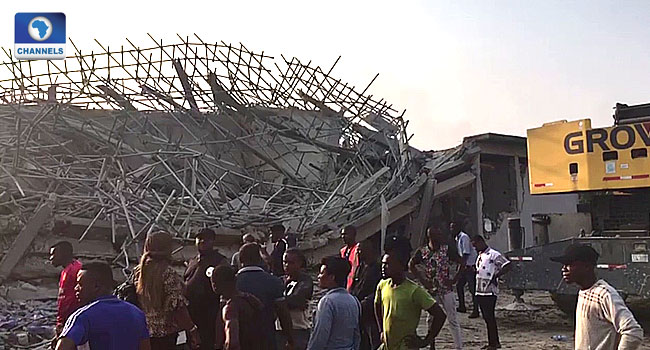 Five persons have now been brought out dead from the rubbles of a seven-story building which collapsed on Friday in Port Harcourt, Rivers State.
Thirty-six others were, however, rescued by emergency workers with some of them seriously injured and one of them with an amputated hand.
Rescue workers believe many are still trapped under the rubbles of the building and are working frantically to get them out as concerned residents and relatives of those believed to be trapped wait anxiously to know their fate.
READ ALSO: Many Trapped As Seven-Storey Building Collapses In Port Harcourt
The seven-storey building which is located on Woji road in the Port Harcourt G.R.A. was under construction when it collapsed around 4:30 pm on Friday.
About 60 persons – mainly construction workers – were said to have been working on it when it collapsed.
One of the construction workers told Channels Television that he had just left the building when he heard a loud bang and turned around to discover what had happened.
He explained that there were many workers in the building when the incident occurred because they are usually paid for the week on Fridays.
As of Saturday morning, one person was confirmed dead and 26 rescued, but as the day progressed hope faded for three others while fate smiled on 10 more persons.
Up to 60 persons are believed to have been in the building when it went down.