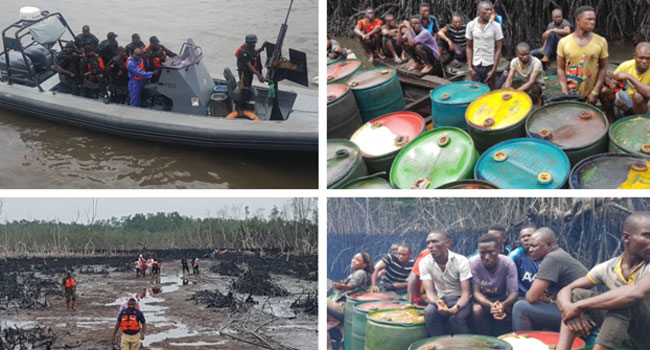 The Nigerian Navy has destroyed some illegal refineries tucked in the hard to reach areas of the Niger-Delta creeks.
In the latest operations, the navy destroyed some illegal refineries located in Warri and Port Harcourt the commercial nerve centres of Delta and Rivers states.
Some of the areas combed by the navy include the Benette Island and Yeye creeks in Warri as well as Bakana creek in Port Harcourt.
Over 80 drums of 250 litres of products and 13 suspects were arrested during the Portharcourt Operation.
The illegal refiners are said to get their products by either breaking oil pipelines or wellheads, after which they proceed to their refineries where they distill the crude and then dispense to buyers who come from various parts of the cities by boat.
READ ALSO: Oil Theft: Navy Hands Over Eight Suspects, Boat To EFCC
Commodore Ibrahim Idewu, the Commander NNS Delta, says this breach, in the long run, affects the country's oil production capacity while the refined products end up damaging the facilities and equipment of users.
Similarly, in his brief, Commodore Sam Bura, the Commander NNS Port Harcourt expressed the resolve of the Navy to keep the waterways safe, protect national assets and keep illegal refiners off operations.
He, however, calls for urgent prosecution of arrested vessels as maintaining the vessels at the naval jetties is draining the purse of the Navy.