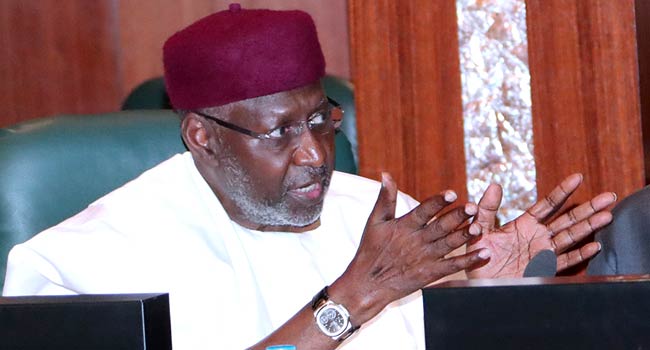 The Chief of Staff to the President, Mr Abba Kyari, has tested positive for coronavirus (COVID-19), according to reports.
Mr Kyari is believed to have been infected during his recent trip to Germany where he met with officials of Siemens in Munich on Nigeria's electricity expansion programme.
He was said to have returned on March 14, and that he did not show any symptoms of being infected with the virus at the time.
Minister of Health, Dr Osagie Ehanire, was expected to clarify the controversy surrounding the reports at a press briefing on Tuesday afternoon. The minister, however, did not show up for the briefing.
According to the reports, President Muhammadu Buhari and Mr Kyari were both tested for the COVID-19 virus by the Nigeria Centre for Disease Control (NCDC) on Monday.
While the President was said to have tested negative, the result of the test for Mr Kyari allegedly came out to be positive.
The NCDC was said to have briefed President Buhari on the outcome of the test on Tuesday at the Presidential Villa in Abuja.
Hours after the news emerged, the Presidency has neither confirmed nor denied the development.
Meanwhile, new reports have indicated that three of Mr Kyari's aides have also tested positive to the COVID-19 pandemic which has infected over 300,000 persons across the world and caused over 18,000 deaths.
The Chief of Staff reportedly submitted himself voluntarily for testing and is said to have gone into isolation after the development.
Amid the report of Mr Kyari's health status, the NCDC confirmed two new cases of COVID-19 in the country – one in Bauchi and the other in the Federal Capital Territory Abuja, bringing the total number of cases to 44.
Although the NCDC did not reveal the identity of the two new cases, it indicated that one of them had a history of travel to the United Kingdom and the other to Germany.
The case in Bauchi is apparently the state Governor, Bala Mohammed, who recently travelled to the UK and had contact with the son of former Vice President Atiku Abubakar who later turned out to be infected.
The second case is believed by many to be Mr Kyari who had a history of travel to Germany.
Earlier in the day, two cases had been confirmed in Lagos and Ogun states. One of them was a returning traveller while the second case was a contact of a previously confirmed case.