Addressing High Rate Of Drug Use In North Will Curb Crimes In Nigeria – Ishaku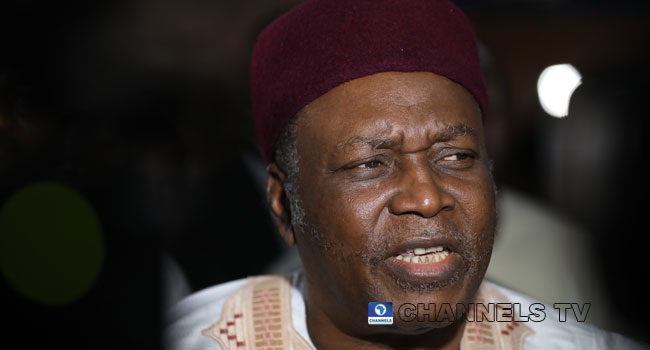 The Taraba State Governor Darius Ishaku says addressing the high rate of drug abuse in Northern Nigeria and Nigeria, in general, will go a long way in addressing the disturbing trend in criminal activities in the region.
Ishaku also called on Governors of the 19 Northern States to throw their weight behind the campaign of their wives to check drug addiction and rehabilitate victims.
He made the statement when he received in the audience a delegation of Wives of Northern States Governors Forum led by Amina Bello, wife of the Niger State Governor, in Jalingo, the Taraba state capital.
Only four out of the nineteen governors' wives were present for the occasion and they include that of Niger, Sokoto, Adamawa, and Taraba state who is the host.
Members of the Forum arrived in Jalingo on Tuesday for a strategic meeting on their campaign against drug abuse.
Governor Ishaku described drug abuse in the country and particularly in the North as endemic and alarming and said the role being played by the Northern Governors Wives Forum is noble and must be encouraged if insecurity must be crushed.
READ ALSO: Insecurity: Lagos Police Boss Meets Controller Of Prison Put Officers On Red Alert
While commending them for their unique approach towards tackling the endemic problem of drug abuse and for the achievements recorded in the Northern States so far, the Governor says posterity would be kind to them for making efforts to solve the teething problem of Nigeria as a nation.
" What is being commissioned today is life to some human beings and its not the building but actually transforming somebody who was derailed and I think that is very key to societal development "
" Drug addiction has damaged and destroyed many people, but thank God we are trying in addressing the situation"
" Most people who go into drug addiction is either because they lack what to do or deceived into it "
In her address, the chairperson of the Forum, Amina Bello, said the Forum's approach of sensitising and rehabilitating drug addicts has given hope to thousands of youths in the North.
She said they were in Taraba State to support the efforts of Barr Anna Darius Ishaku, wife of the state governor, to do more in rehabilitating victims of drug abuse.
"At the Northern Governors wives forum, we ensure that every state has a functioning drug rehabilitation centre "
" We advocate to our Governors and good spirited individuals to make it possible in each state and we have been doing that for the past four years "
" For us we consider drug addiction to be a disease that has to be treated and anyone who is addicted has a problem that will remain with them for the rest of their lives except when checked "
In her opening remark, the brain behind the rehabilitation centre Anna Ishaku says drug abuse was partly responsible for most of the crimes threatening the country today and calls for support against it.
She thanked members of the Forum for coming to Taraba State to give support to her efforts at taking addicted youths out of the drug debacle.
"Drug abuse has been identified as a leading factor of very violent crimes including domestic violence, armed robbery, banditry, rape, and spread of HIV/AIDS among several infectious diseases "
"Despite all these evidences and reality of the menace of drug abuse, the number of youth involved remain very high"
" We are therefore calling on all and sundry to please assist to help them grow out of this drug dependency and into self-worthy dignified and self-respectful individuals "
Anna Ishaku had raised funds and built the drug victims rehabilitation centre in Jalingo which was commissioned by Gov Ishaku and handed over to the state government during the visit of the Northern Governors Wives.