Osinbajo's Intention To Run For President, An Ambition For All Nigerians – Lawyer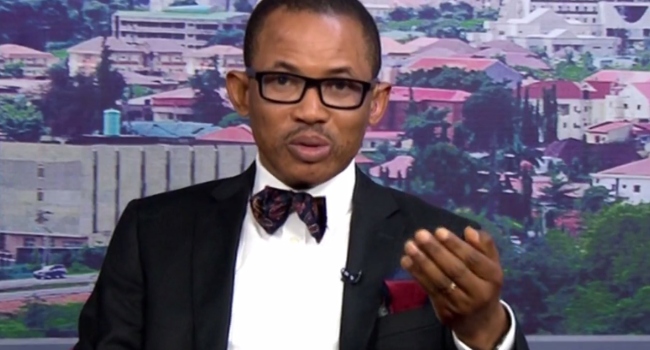 The former National Secretary of the Labour Party and Convener, Progressives Lawyers for Osinbajo, Kayode Ajulo, has said that Vice President Yemi Osinbajo's declaration to run for president is an ambition for all Nigerians.
He said that the Vice President has the ambition of over 200 million Nigerians and is willing to move the nation forward.
Mr Ajulo stated this on Monday when he appeared as a guest on Channels Television's Breakfast Programme, Sunrise Daily.
"What we are talking about is the generality of people not the ambition of one man; this is about the future, wellbeing and aspiration of the Nigerian people," he said.
"Several people have been calling him to run because they have seen something in him. This is about a leader  who is responsive enough for the yearning of the people and he has come to respond to it."
READ ALSO: Why I Am Running For President – Osinbajo (Full Text)
He noted that Professor Osinbajo has been, for the last seven years, visiting everybody and places.
"Osinbajo is the longest-serving Vice President that has the Confidence of his principal and his people, everywhere he worked," he explained.
Also, Professor Yahaya Babe of the Department of Political Science, Usmanu Danfodiyo University, Sokoto, says the Vice President's move is a very witty decision he has taken and would have consulted widely within the party and outside the part and with his principal officers.
He said Osinbajo has been transformed into a politician and has the capacity to lead the country, making reference to the 6 months period when President Muhammadu Buhari was away on medical treatment and the Vice President stood in for him.
"The trust has transformed the vice president not only a politician of his own time but equipped him with the knowledge and skills that are required to penetrate the political device,"  Professor Yahaya added.
On the debates about zoning, the professor said that it will not affect the Vice President's declaration,  stating that all the aspirants need to come together and have a discussion.
Their comments come hours after Osinbajo formally declared his intention to run for President in 2023.
His declaration ends months of speculation over his interest in the 2023 presidential race and widens the pool of candidates for the position.
It also puts him in direct confrontation with his former boss in Lagos State, Bola Ahmed Tinubu, who signalled his intention earlier in the year.
"I am today, with utmost humility, formally declaring my intention to run for the office of the President of the Federal Republic of Nigeria on the platform of our great party, the All Progressives Congress," Osinbajo said in a video obtained by Channels Television.