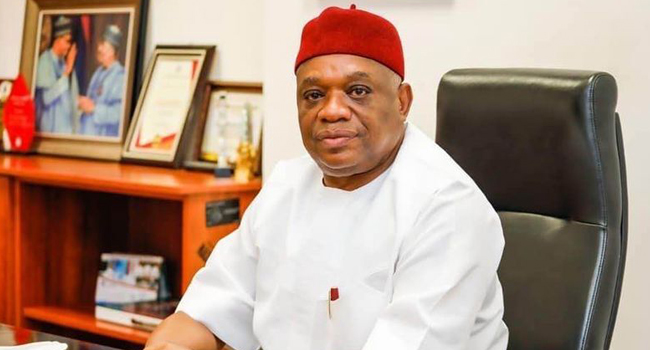 The Chief Whip of the Senate, Orji Uzor Kalu has warned the ruling All Progressives Congress (APC) against underrating the recent defections of high-profile individuals to the New Nigeria People's Party (NNPP), especially in the North-West geo-political zone.
Kalu in a brief communique on Friday said the APC must take a keen look at the current cross-carpeting exercises taking place within the region.
He used the opportunity to reiterate his earlier position that the presidency should go North-East if it can't be conceded to the South-East for equity and fairness.
READ ALSO: SGF Directs Emefiele, Heads Of Agencies, Others With Political Ambition To Resign
The lawmaker said: "the silent majority who have a working conscience could protest this injustice by supporting Engr. Rabiu Kwankwaso to clinch the presidential seat in 2023 if our party, the APC, and the opposition PDP field their candidates from any other zone aside from the South East or North East.
"This is because when the purpose is not known, abuse becomes inevitable."
The lawmaker said it is time to unite and rally around a zone that has not produced the nation's president since the rotation convention dispensation that began in 1999.
Kalu's warning comes a few hours after the NNPP said it had enlisted over 1,000 non-governmental organisations and civil rights movements that would support them in the 2023 general elections.
The party through its Liaison Officer Bashir Abacha said it was optimistic that with the support they were getting, the former governor of Kano State, Musa Kwankwaso, would be the next President of Nigeria.
According to Abacha, the party has consulted with the organization and has a good knowledge of the challenges, and prospects, and ascertained the possibilities of actualizing the NNPP's presidential ambition from the NGOs perspective.