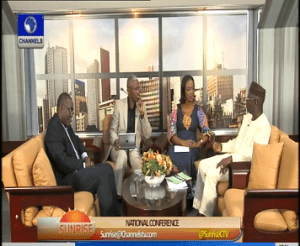 A Delegate at the National Conference, Pastor Tunde Bakare, has commended the efforts of the delegates at the conference and clarified that what is called a draft constitution by the public were the recommendations of the delegates put together under different committees. 
He explained that each committee submitted its report which was subject to endorsement and votes by the plenary, which was later given to the key pillars in the management team for review and onward presentation to the plenary.
"The management team presented three volumes of the reports and called one of the reports  a 'draft constitution' and not the plenary," he said.
Speaking as a guest on Channels Television's programme, Sunrise, on Saturday, Pastor Bakare commended the efforts of the management team at the National Conference, adding that the reports, recommendations, resolutions were put on different session but that they were not meant to change the name of the 1999 constitution but rather named the "Draft Constitution".
Another guest on the programme, Achike Chude of Joint Action Front, said that the outcome of the National Conference depended on the National Assembly and some other people in government.
He noted that if the recommendations were not considered or used as expected by Nigerians, then "it will be mean that 10 billion Naira has gone down the drain".
Mr Chude also stated that the delegates at the National Conference had put in a lot of efforts at the conference which should not be in vain. "They did a lot of work, some of the resolutions were talked about such as, creation of 50 states, state police amongst others," he said