FG Responsible For ASUU Strike – Analyst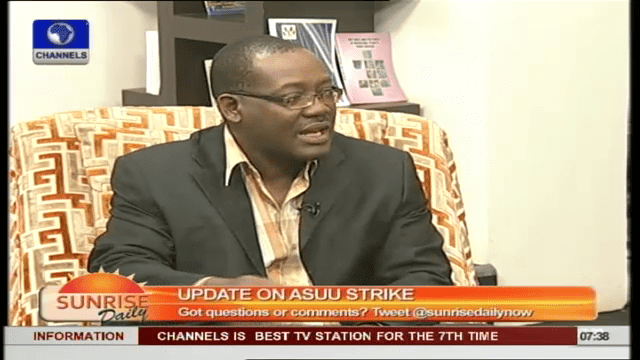 The Executive Chairman of the Joint Action Front, Mr. Achike Chude has blamed the federal government for being responsible for the strike action embarked upon by the Academic Staff Union of Universities (ASUU).
He noted that the strike could have been averted if the federal government had not "reneged on agreements that are freely entered into", while speaking as a guest on Channels Television's breakfast programme, Sunrise Daily.
He also lamented the slow pace the federal government is taking in resolving the impasse with the Academic Staff Union of Universities (ASUU).
Chude said "it is very unfortunate because if you talk about education, you talk about the life of the nation. You talk about a nation being unable to develop adequately because of the problems in the education sector".
He urged the federal government to bring in "the essential departments of government that will be affected by that. So you will bring in people from the budget office, education sector and ministries of finance and labour".
Chude further alleged that some departments in the Lagos State University have only one student.