They Voted For Suntai, Not Acting Governor – Analyst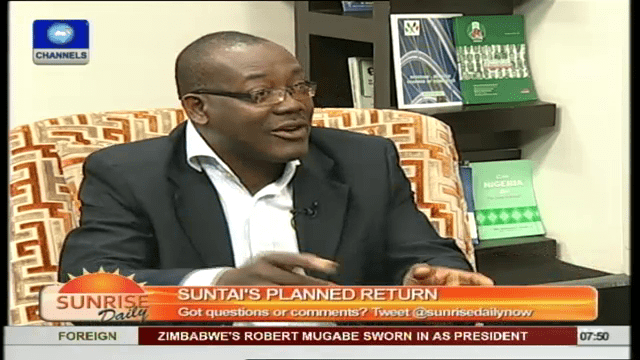 Public affairs analyst, Achike Chude, has said that the long absence of Taraba's Governor Danbaba Suntai from office, without redress, is evidence of loopholes in the Nigerian constitution as the governor is the one voted to rule and not an 'acting governor'.
Although, the constitution has made provisions that the deputy governor take over as 'acting governor' when the governor is indisposed, Mr Chude argues that "the people who voted for the governor, voted for the governor, they didn't vote for the acting governor to be governor".
This he said while reacting to the news of Governor Suntai's expected return to office after a plane accident which took place in October 2012.
Using former First Lady, Turai Yar'adua, as an example, he highlighted that there was a failure to learn from history whereby "a few people who do not have any legal basis for directing the affairs of state" hold government and the people to ransom.
"That was not resolved right" because the people involved in the various acts were never called to book.
The culture of impunity may be at play in Taraba state even though "it was unfortunate that the governor had an accident. Unfortunate that he was injured" but this is about "a few people who are in power, who have availed themselves with all the trappings of power in a most undemocratic manner.
They do that through subterfuge, intrigue, outright manipulation of the system, corruption, intimidation, and sometimes outright threats against political opponents and at the end of the day, the whole state lie in comatose".
Arguing that such long absence from office is unacceptable, he said the constitution doesn't provide adequate instructions on the proper steps to take in such situations.
He also attributed the citizens' silence regarding the matter to 'the complacency and docility of the people," adding that, the ignorance and illiteracy of the people is to be blamed.
He said "all of these things have a role to play when you are talking about effective administration of a people."
"Our people have been so much marginalised… so they have surrendered their mandate to a few people who has taken it upon themselves to determine the direction of their state".