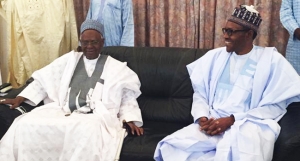 The presidential candidate of the All Progressives Congress (APC), Gen. Muhammadu Buhari (Rtd), was in Sokoto State on Saturday to visit former president, Alhaji Shehu Shagari.
The visit was to celebrate with the Second Republic President, whose 90th birthday was on February 25, while General Buhari was away in the UK.
General Buhari seized the opportunity to explain why he missed the February 25 date.
"Your Excellency, my coming today is to felicitate with you over your 90th birthday anniversary. I have personally sent a letter to you informing you that I was in London and hope the letter was delivered to you.
"I would have loved to come with some of our colleagues who were here earlier but for my trip to London where I went to have some rest after campaigning in all the 36 states of the federation in addition to several townhall meetings.
"I pray Allah to grant you good health and more fruitful years ahead," Buhari said.
He described Shagari as a great nationalist, lauding him for his commitment to Nigeria's peace and unity.
The Sokoto State Governor, Aliyu Wamakko, who accompanied the APC presidential candidate to Shagari's Sama road residence alongside other members of the APC in Sokoto, also highlighted Shagari's virtues of discipline, humility and nationalism.
Former president Shagari was full of smiles and gratitude to his visitors. He also urged Nigerians to continually pray for the peace and stability of the country.
He wished General Buhari success in his political ambition.
Buhari overthrew Shagari during his civilian regime in a military coup on December 31, 1983.