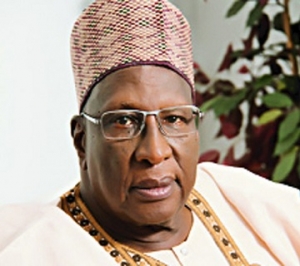 The Peoples Democratic Party has suspended its former chairman, Bamanga Tukur for instituting a suit against the current chairman, Adamu Mu'azu without first exhausting internal redress avenues.
Late September, Mr Bamanga Tukur, at the Federal High Court Abuja filed a claim arguing that he was forced to resign his post as the national chairman of the party in order for the seven defected governors to come back to the party.
On the 31st of August 2013, while the PDP Special National Convention was going on, the unexpected happened, after the speech by President Goodluck Jonathan with five of the PDP governors, Abdufatah Ahmed of Kwara, Muazu Aliyu of Niger, Musa Kwankwaso of Kano, Sule Lamido of Jigawa and Aliyu Wamakko of Sokoto states, stormed out of Eagle Square, venue of the party's convention in Abuja, to form a faction of the party.
Governors Murtala Nyako of Adamawa and Chibuike Amaechi of Rivers States, who were barred from attending the convention, also joined the other governors to form a factional PDP.
Some of them later decamped from PDP to the APC.
In his suit, Tukur further stated that the NEC of the party has no power to appoint the national chairman, adding that the votes and proceedings of NEC held at Wadata House on January 15 and 20 which deliberated on his resignation as national chairman and appointment of Mu'azu as chairman are a nullity.
Find below a statement issued by the Party's National Legal Adviser, Barr. Victor Kwon
The National Working Committee of the Peoples Democratic (PDP) at its 395th meeting held yesterday, December 3, 2014 reviewed recent national developments as they affect the party.
Among others, the NWC deliberated on the court case instituted against the National Chairman of the Party, Ahmed Adamu Mu'azu by the former National Chairman, Dr. Bamanga Tukur.
The NWC reasoned that for instituting a claim and counter claim in suit FHC/ABJ /821/2014; Gurin vs PDP & 3 others without first exploring and exhausting the party's internal mechanism of redress and for attempting to stop the forthcoming National Convention to nominate the party's presidential candidate as well as regularize the position of the National Chairman and other members of the National Working Committee is unacceptable.
The NWC hereby suspends Dr. Bamanga Tukur and Aliyu Abuba Gurin for one month and refers them to the National Disciplinary Committee for infringing on section 58(1)(a)( b)( h)( l) of the PDP Constitution 2012(as amended).