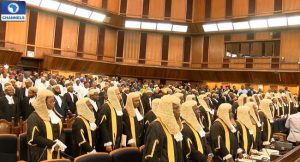 The National Judicial Council (NJC) has barred judges who are under investigation for various offences from sitting until the cases against them are concluded.
This is according to a statement signed by its Acting Director, Information, Mr. Soji Oye, on Thursday.
The Council explained in the statement "that Judicial Officers shall not be standing trial for alleged corruption related offences and be performing judicial functions at the same time".
The decision, taken at its 79th meeting, appears to be a U-turn from its earlier position on the alleged corruption case against the judges.
Some of the judges are those arrested few weeks ago by operatives of the DSS over allegation of corruption and misconduct.
The NJC had resisted the call for the affected judges to be suspended, saying "that position breaches the 2014 revised judicial discipline regulations formulated by NJC pursuant to section 160 of the 1999 constitution".
Nigerian Bar Association (NBA) was one of the major groups demanding that the judges under investigation should proceed on compulsory leave until their innocence is fully and completely established or until the conclusion of all judicial or disciplinary proceedings.
But the NJC insisted that it shall not be subject to the direction or control of any other authority or person while exercising its disciplinary power of control over judicial officers in the federation.
In addition to its latest decision, the NJC has also set up what it called a Transparency and Anti-Corruption Policy Implementation Committee.
This is based on Section 6 of the National Judicial Policy, which "aims at putting in place multifaceted strategies and guidelines that will ensure transparency and eliminate corruption in the Judiciary.
"It seeks, amongst other measures, to provide a platform and opportunity to citizens who profess factual and credible knowledge of information on the nature and modalities of corruption in the judicial system to ventilate such."
The committee has as its chairman, Justice E. O. Ayoola, a retired Justice of the Supreme Court.
Members are the Chief Judge of Borno State, Justice Kashim Zannah, and the President of the Nigeria Bar Association, A. B. Mahmoud, SAN.