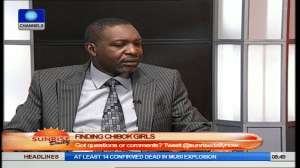 A legal practitioner, Malachy Ugwumadu, has called on security agents fighting against terror and searching for the abducted school girls to be "more coordinated" to "mitigate the pain, anguish and frustration suffered by the victims of this dastardly act".
He noted that in rescuing the girls "there are two proposals (options)", first "is in engaging these people (Boko Haram) with brute force and another is to negotiate with them" adding that both have their "merits and demerits".
Ugwumadu, however, noted that "if you have at the back of your mind the safe return of these girls, you will go for the latter and that is to negotiate with these criminal elements".
Speaking on Channels Television's award winning breakfast show, Sunrise Daily, the legal practitioner noted that "even as sophisticated as the United States of America is, there are plethora of instances where they have had to negotiate, the least of which was just yesterday with just a single Sergeant in the US Army".
He added that "if you apply that to this situation, you will find out that these girls have been taken in as shields and if you are going to make the mistake of that misadventure of trying to test the will of people who have clearly dramatized their bestiality, you will have these girls down".
He also appreciated the "concern of the Nigerian people, the difficulty of government amidst the cacophony of voices that are coming from every angle", maintaining an earlier stance, "that is why I said they should get a little more coordinated".
He added that "given that discordant voices, there has been an attempt to coordinate the dissemination of information by all the security agencies", and commended "virtually all the spokespersons of various security agencies who come together with a view to giving a coordinated information."
Mr Ugwumadu, stated that false rumours making the rounds that a number of the girls had been found only "adds to the pain, frustration and agony" describing is as one which "exposes the gloomy picture of where we are".
He also alleged that "it is almost certain that these people (military) will not be able to rescue these girls."
Reacting to the calls that the Federal Government should negotiate the safe return of the girls, he appealed for the Government to "take steps to curtail what they have capacity to do almost immediately" when trying to swap the girls with yet to be de-radicalised members of the Boko Haram sect.
He further downplayed the idea of granting amnesty to the sect members, wondering what the chances were that all the variables that determine and fuel this kind of insurgency would not have yet another one after Boko Haram"
The lawyer recalled, "It was Shehu Sani who said that his fear really is that Boko Haram is not the most violent sect in the North presently; that the only difference is that these ones have crossed the line and they are carrying guns."