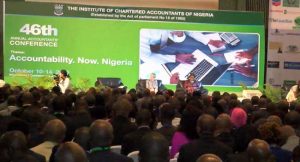 The Institute for Chartered Accountants of Nigeria (ICAN) has called on Nigerians to ask questions and make public office holders account for their stewardship.
The President of ICAN, Mr Titus Soetan, made the call at the 46th annual accountants' conference in Abuja where chartered accountants from across Nigeria and top government officials all gathered.
According to him, the lack of accountability in public and private offices has contributed greatly to Nigeria's underdevelopment.
The theme for the conference is "Accountability Now Nigeria" and the President of the International Federation of Accountants, Ms Olivia Kirtley, explained the relevance of the theme for Nigeria.
The conference is expected to come up with a communique which organisers hope will help enhance accountability in public and private offices, going forward
On his part, the Vice President, professor Yemi Osinbanjo, explained the importance of accountability to national development, while the Minister of Finance, Mrs Kemi Adeosun, also explained the benefits of some recent economic reforms of the government.