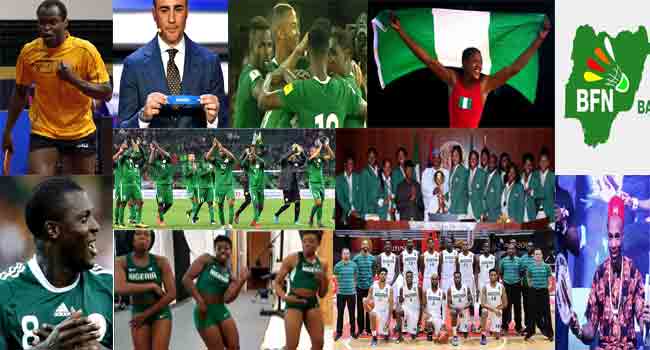 As sports lovers across the country evaluate Nigeria's performances in sporting events – both locally and globally, here are some of the top moments for the year 2017:
World Cup Qualification
The news that the Super Eagles qualified for Russia 2018 FIFA World Cup was arguably the biggest feat the country recorded in the sporting events for the year.
The national football team beat Zambia on October 7 to emerge the first African team to qualify for the tournament and also seal their sixth World Cup ticket after their last appearance in 2014.
Jubilation over the qualification was tempered for some fans by the World Cup draws. Nigeria was drawn with Argentina, Iceland and Croatia in Group D, which some have called the 'Group of death'. Russia 2018 will mark the fifth time Nigeria would face Argentina at the World Cup – after meetings in 1994 (USA), 1998 (France), 2002 (Korea-Japan) and 2014 (Brazil).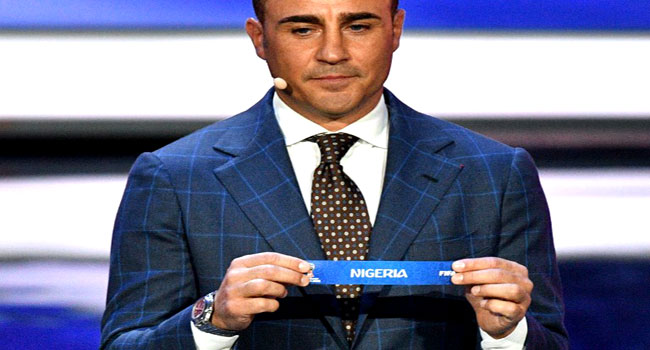 Expect 'Difficult' Argentina In World Cup, Rohr Warns Eagles
Adekuoroye's Silver Medal
In August, Odunayo Adekuoroye made the nation proud at the World Wrestling Championship event in Paris, France. The 2014 Commonwealth games champion claimed a silver medal and became the first African woman to win a medal at the tournament. Nigeria also recorded another success in August after winning the bid to host the Africa Senior Wrestling Championship.
Nigeria's Adekuoroye Wins Silver At World Wrestling Championship
Badminton Championships
The hosting of the National Badminton Championships (in Lagos and Katsina states) in November was another success Nigeria recorded in 2017.
D'Tigress Win FIBA Afrobasket
In the basketball world, Nigeria's senior national women's basketball team D'Tigress defeated their Senegalese rivals in August to win the 2017 FIBA Women's Afrobasket. Barely one month after, the men's senior national team failed to defend their championship title as they lost to Tunisia who claimed the 2017 Men's Afrobasket title.
D'Tigress Beat Senegal To Win FIBA Women's Afrobasket
Buhari Receives Victorious D'Tigress
 Quadri Wins Polish Open
Meanwhile, table tennis professional Aruna Quadri defied all odds in October to win the Polish Open. The 29-year-old who has been listed among the World Top 20 players defeated Japan's Kaii Yoshida in a tough contest to become the first African to win an ITTF title outside the continent.
Adigun, Onwumere, Omeoga Make History
Another resounding success was recorded by Nigeria Women's Bobsled team who qualified for the 2018 Winter Olympic Games. The trio of Seun Adigun, Ngozi Onwumere, and Akuoma Omeoga, wrote their names in the history books in November by becoming the first African team to qualify for the bobsled category, after completing the required five races.
Thierry Henry Visits Nigeria
Other sporting events that featured in the year include Thierry Henry's visit to Lagos and the retirement of ex-Super Eagles forward Yakubu Aiyegbeni from professional football among others.
Sports Federations Elections
The sports federations elections were also some of the events that got Nigerians talking in 2017. While some of the polls went smoothly, others were reportedly marred with irregularities and as such, generated various controversies.
The crisis in some of the groups – including the Athletics Federation of Nigeria and the Nigeria Basketball Federation – seemed to have affected the nation's performances at the London Olympics and FIBA Afrobasket.
Poor Outing At IAAF World Championships
The country, however, had a poor outing during the IAAF World Championships at the London Olympic Stadium in August. The quartet of – Abike Egbeniyi, Patience Okon-George, Glory Nathaniel and Yinka Ajayi – made it to the final of the women's 4x400m, but finished fifth behind their Great Britain and American rivals among others.
Global Events
Far from the sporting events in Nigeria, here are some of the notable happenings in the global world of sports.
BOXING
Mayweather vs Mcgregor Bout
US' Floyd Mayweather extended his perfect career record to 50 fights unbeaten in August following his victory over mixed martial arts champion Conor Mcgregor in the much-anticipated crossover bout in the 10th round.
According to reports, the cross-combat super fight is the second richest boxing bout in history, after generating 4.3 million pay-per-view buys in North America. Only one other fight — Mayweather's 2015 bout with Manny Pacquiao — more by racking up 4.6 million buys to earn around $600 million.
Klitschko vs AJ
WBA and IBO champion Anthony Joshua (AJ) knocked out experienced Wladimir Klitschko to win the World Heavyweight title in April. The 28-year-old waited till the 11th round to earn the victory in what was a highly combative fight.
Horn vs Pacquiao
Filipino senator and boxer Manny Pacquiao suffered a shock defeat to Australia's Jeff Horn in a bloody Brisbane battle in July.
Pacquiao who is one of the finest boxers of his generation paid the price for a slow start while Horn claimed a unanimous 12-round decision to win the WBO world welterweight title in front of 50,000 fans
…………………………………………………………………………………………………………………………..
TENNIS
US Open
Rafael Nadal won his third US Open title and 16th Grand Slam crown in September with a rout of South African giant Kevin Anderson, while 11-month sidelined Sloane Stephens clinched her first Grand Slam title after trashing fellow American Madison Keys.
Wimbledon Open
Swiss maestro Roger Federer thrashed Croat Marin Cilic to become the first man to win eight Wimbledon singles title in July, just as brave Garbine Muguruza stunned experienced Venus Williams to claim her maiden Wimbledon crown.
French Open
Rafael Nadal defeated Stan Wawrinka 6-2, 6-3, 6-1 to claim his 10th French Open title in June while Jelena Ostapenko defeated Simona Halep 4-6, 6-4, 6-3 in the women's final.
FOOTBALL
World Cup: there were intriguing events this year as it relates to the qualification and draws for the Russia 2018 World Cup. Nigeria and Argentina were drawn in the same group for a record fifth time while Italy and Netherlands missed out of the tournament.
In Africa, the Pharaohs of Egypt qualified for World Cup in October since 1990 while Morocco also qualified for the first time since 19 years ago in November. However, African giants such as Ghana, Ivory Coast, and Cameroon were unable to seal their spots at the tournament.
Retirements: 2017 was a great year for some players who believed it was time to sit back and get some rest after several years of hard work. The duo of Argen Robben (Netherlands) and Gianluigi Buffon (Italy) quit international duties in October and November respectively, following their countries' failure to qualify for World Cup.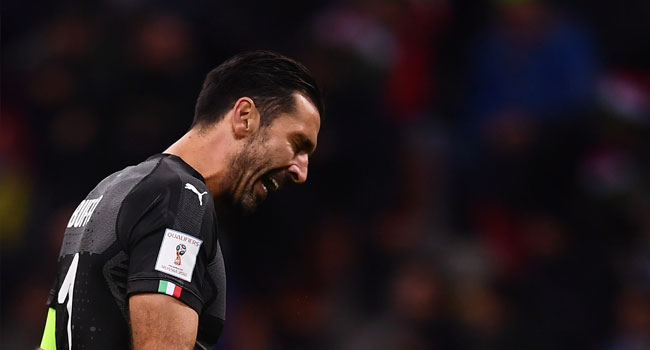 Those who bowed out of professional football are Spanish midfielder Xabi Alonso (Bayern Munich, March); Italy's Francesco Totti (AS Roma, May); German defender Philipp Lahm (Bayern Munich, May); and Ballon d'Or winner Kaka (Orlando City, December).
Awards
The highpoints of football awards in 2017 cut across the FIFA awards and the Ballon d'Or honours. Portugal and Real Madrid forward Cristiano Ronaldo won the Best FIFA Men's Player of the Year and the Ballon d'Or awards in October and December respectively.
Real boss Zinedine Zidane also beat Chelsea's Antonio Conte and Juventus's Massimiliano Allegri to claim the corresponding Manager of the Year award, while Barcelona's Lieke Martens won the Best FIFA Women's Player of the Year title.
Transfers: Ligue 1 side Paris Saint-Germain (PSG) shock the football world in August with the signing of Neymar from Barcelona. PSG signed the Brazilian forward for a record fee of €222million and also signed Kylian Mbappe for €180million.
Other signings in the year include Barcelona's Ousmane Dembele from Borussia Dortmund (August), Manchester United's Romelu Lukaku from Everton (July), Liverpool's Salah from Roma (June), and Arsenal's Alexandre Lacazette from Lyon (July).
…………………………………………………………………………………………………………………………..
Notable Events/ moments: 2017 is a year that Real Madrid and their fans will not forget so soon when they won the UEFA Champions League back-to-back. While Zinedine Zidane also became one of the first club managers to win the title as a player and a coach, Ronaldo became the first player to ever score in all six Champions League group games in one season in December.
Mission Accomplished! Real Madrid Beat Juventus To Break Champions League Curse
In December, Tottenham Hotspur's Harry Kane broke Alan Shearer's 22-year-old record for most goals in a calendar year with his 37th goal when his side trash Southampton 5-2 in December. Slovakian Marek Hamsik also overtook Diego Maradona as Napoli's all-time record goalscorer with his 116th goal in all competitions on December 23.