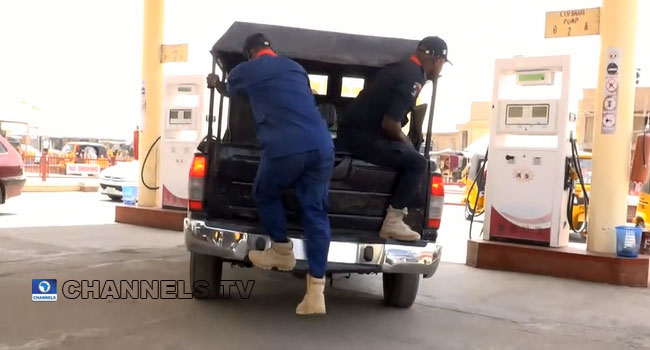 The Nigeria Security and Civil Defence Corps (NSCDC) has threatened to seal any fuel station with Premium Motor Spirit and has refused to dispense fuel.
The security agency also vowed to sue fuel marketers hoarding the product.
This development follows weeks of tough times occasioned by fuel scarcity in major parts of the country, leading to a hike in transportation fares and commodities, a situation the NSCDC says they frown at.
Taraba State is one of the states hit by fuel scarcity with black marketers taking advantage of the scarcity to sell by the roadside.
READ ALSO: Seplat Signs Deal To Acquire Nigerian Unit Of ExxonMobil
The NSCDC commandant in the state, Edwin Ugwuji in an interview with Channels Television lamented that fuel stations are under lock and key but they are deliberately shut to exploit citizens.
He, therefore, ordered for immediate opening and dispensing of the product to avert panic buying as well as artificial scarcity.
"If they have fuel in their tanks, they must sell, but some are hoarding the fuel to sell to black marketers and that is what we are trying to discourage "
"If there is any marketer that has gone contrary to the stipulated regulation, we will seal the filling station, after which we can take the matter to court," Ugwuji said.
He also faulted some marketers who claim the cost of lifting the PMS is now expensive compared to the previous days.
"From investigations, what they told me is that the cost of lifting the fuel is very high, but I do not want to believe it, because they have been lifting the fuel long ago and it is not the first time, so I think they need to come out with a very strategic action plan.
"We are strongly against them shortchanging the public and we would not stop until the needful is done," he said.
He also assured residents of the availability of PMS in the state and asked that panic buying should not be considered by anyone.