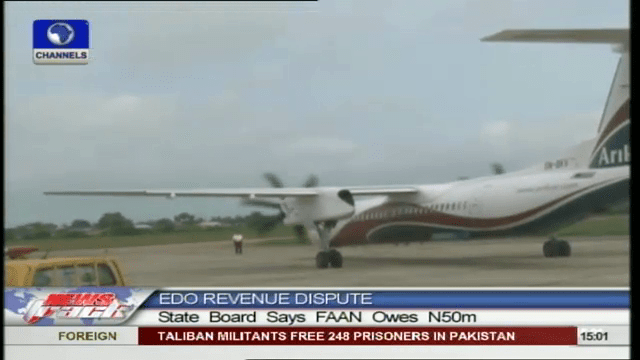 Normalcy has returned to the Benin Airport. Flight Operations commenced late in the evening of Tuesday, July 30th, after the crisis over the remittance of taxes by the Federal Airports Authority of Nigeria (FAAN).
A visit however to the administrative block which was sealed up on the orders of the court yesterday revealed that the restraining order has been removed by officials of FAAN who also have commenced work at the premises.
Meanwhile, the  Edo State Board of Internal Revenue said it will explore other legal options available to get them to pay their taxes.
The board also frowned at the refusal of federal parastatal to pay tax, stating that "34 of them in Edo state owe over N2 billion pay as you earn taxes between 2009 and 2012".
Executive Chairman of the Board, Oseni Elama said the taxes the government is demanding is "PAYE which have already been deducted from employees, not tenement rate as is being peddled" adding that "even the Federal Government is deducting N825 million from the state account monthly part of which is a backlog of Value Added Tax owed by previous administrations".
This is the third time in three years that the FAAN office is being sealed up over non remittance of tax obligations.
The State Government is also in court against the PHCN over non remittance of PAYE taxes to the tune of about N700 million.