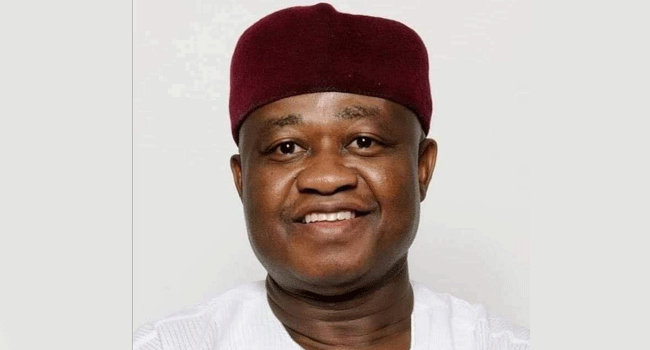 The Publisher of the Leadership newspapers, Sam Nda-Isaiah, has died.
He died on Friday at the age of 58.
According to a statement by the family, posted on the website of the Leadership Newspaper, the media mogul died after a brief illness.
"Nda-Isaiah was a family man, a serial entrepreneur and visioner, and a passionate politician. He was, above all, a man of faith. Even in this moment of grief, we know he is in a better place," the statement added.
He was also a serial entrepreneur with a portfolio of thriving businesses and a founding member of the All Progressives Congress (APC) on whose platform he contested for presidential ticket in 2014.
Born in Minna, the Niger State capital (on May 1, 1962), Nda-Isaiah had his early education in UNA Elementary School before switching over to the Christ Church School, Kaduna in 1968 where he completed his primary education.
He attended the Federal Government College, Kaduna, from 1974 to 1979. He later studied Pharmacy at the Obafemi Awolowo University and did his National Youth Service Corps programme at the Ekiti State General Hospital in 1984.
Fondly called 'Sam', Nda-Isaiah is an alumnus of the Lee Kuan Yew School of Public Policy at the National University of Singapore.
He began his working career as a pharmacist at the Kano Specialist Hospital before he moved to the General Hospital, Minna, after which he joined Pfizer Products Limited from 1985 to 1989.
He attended an event on December 10, just a day before his sudden death.
'A Committed Pillar'
Tributes have been pouring in for him, with several persons describing the loss as shocking and painful.
Senate President Ahmed Lawan described him as someone who "fervently believed in the Nigerian project", saying "this was reflected in his writings and the editorial focus and tone of his Leadership Newspaper".
"His contributions as a public opinion-shaper and principled politician are profound and have put his imprints on the Nigerian history despite his early home call," he added.
---
RELATED
'Nigerian Media Has Lost One Of Its Committed Pillars': Lawan, Gbajabiamila Mourn Sam Nda-Isaiah
'He Will Be Sorely Missed', Buhari Mourns Sam Nda-Isaiah
---
The Speaker of the House of Representatives, Femi Gbajabiamila also said "the Nigerian media industry has lost one of its committed pillars".
According to him, the Leadership Publisher's death came at a time that the services of the media are needed most to promote unity among Nigerians as well as the development and growth of the country.
Both National Assembly leaders, prayed for the repose of his soul and for God to comfort his family.
President Muhammadu Buhari has also condoled with the family, over the loss of Sam Nda-Isaiah who he escribes as "a friend and ally".
He said he will be sorely missed, adding that "the country has lost a man of conviction, a resolute and dogged believer in a better Nigeria,"