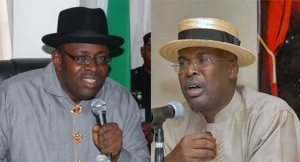 The Governor of Bayelsa State, Mr Seriake Dickson, has started a legal action to disqualify Mr Timipre Sylva from contesting a governorship election again in the state.
Sylva, who governed the state between May 2007 and February 2012 had gone to the Bayelsa State Election Petition Tribunal sitting in Abuja, after losing the gubernatorial election seeking to be declared winner but lost. `
However, Sylva and his party, the APC had in separate appeals appealed the July 26, 2016 judgment of the election tribunal, which upheld Dickson as winner of the last governorship election in the state.
In the appeal filed before the Court of Appeal, Abuja on August 14, 2016 by their lawyer, Sebastine Hon (SAN), they asked the appellate court to set aside the judgment of the tribunal.
Governor Dickson, however, expressed dissatisfaction with the tribunal for refusing to bar Sylva from contesting governorship election having taken governorship oath of office twice.
He has cross-appealed the judgment of the tribunal in which he won.
In a cross appeal filed on Monday, August 15, Dickson's lead counsel, Tayo Oyetibo (SAN) contended that by virtue of Section 182(1)b of the 1999 Constitution, Sylva having been elected governor of Bayelsa State on two occasions is neither qualified to contest an election into that office again or present any petition challenging Dickson's victory at the polls.