Tokyo kicked off a three-year countdown to the 2020 summer Olympic and Paralympics on Monday and unveiled a new theme song for the games at an event in the city.
"There are three years to go. in three years from today, on the 24th, it will be the opening ceremony," the Tokyo 2020 president, Yoshio Mori said.
During the event, a group of Japanese celebrities and Olympians wore traditional Japanese clothing patterned with 2020 games logos and danced to "Tokyo Gorin Ondo 2020", an Updated version of the Tokyo 1964 Olympic games song. It was sung in a traditional style commonly associated with summer festival songs in Japan.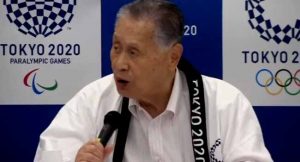 "we have a wonderful song to which everyone from all around the world can dance, regardless of whether they are old, young, handicapped or foreign," Mori said.
Tokyo will be holding other three-year countdown events on Monday, including the kick-off of a nationwide flag tour.
The Tokyo Organising Committee of the Olympic and Paralympic games also held an executive board meeting to discuss preparations for the 2020 games.
Read Also: Ronaldo Thrills Crowd At Chinese Super League Clash