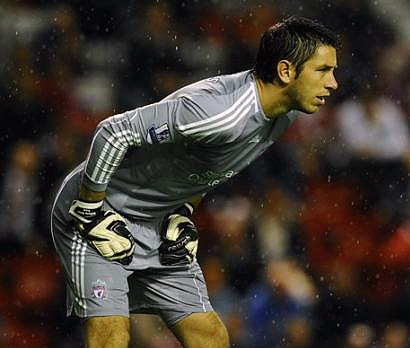 Liverpool Coach Kenny Dalglish has prepared the mind of goalkeeper Alexander Doni who is going to be a stand-in for first choice goalkeeper for Liverpool Pepe Reina by psyching him with praising his attitude towards the task ahead.
Recalling the game between Liverpool and Newcastle, where Reina was suspended for Liverpool's next three games after he was red carded for unprofessional behaviour on the field of play.
Pepe Reina who has made about 183 successful Premier League appearances will be solely missed by the entire Liverpool team.
Leaving Reina, Alexander Doni; a Brazilian International who will be replacing him for the game he is to miss has garnered experiences from playing days with Roma has only played a friendly back in October for just 57 minutes and has not played any reserve team game this season.
According Dalglish the attitude of the Brazilian International Doni has been tremendous and he is really up for the challenge.
"He's very experienced and has worked really hard in training since he got here. He has done as much as he can to try to be ready." Dalglish concluded.
Dalglish admitted that it won't be easy initially for Doni considering the understanding that has to exist between the keeper and any other player in the squad as it is very hard to get that except you play in first team games, but he knows it will pass.