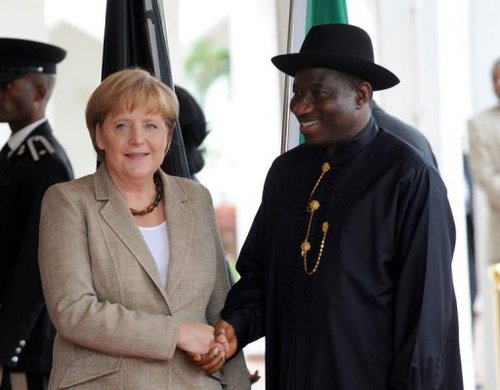 President Goodluck Jonathan said on Thursday that insecurity in Nigeria is not as gloomy as it is painted and has called on the international community to assist the country with the latest technology to fight the insurgency by the Islamic fundamentalist, Boko Haram.
The president made this known while speaking at a joint press conference after holding bilateral talks with the German chancellor, Angela Merkel at the Chancery in Berlin.
He noted that what is needed now is a stable political environment for investment and added that Nigeria can boast of having embraced democracy with a smooth conduct of the general elections.
The president, on a visit to Germany centered on strengthening economic ties, offered assurances that his government "is working very hard and that we'll bring this under control."
Mr Jonathan said that Nigeria could envision foreign help with "training our manpower" and providing technology to monitor terrorists.
Asked what kind of assistance Germany could provide, he said "In areas of training manpower and modern equipment… You need superior technology to fight terrorists and we think Germany and others can help us in such areas."
He arrived office of the German chancellor at about 11.45AM to a full official reception by a detachment of the German military at the Chancery.
The president had earlier in the morning had a breakfast meeting with the German businessmen, where some of them have been doing business in Nigeria in the past fifty years.
"I can assure the global community, especially investors from Germany, that the government is working very hard to bring this problem under control," Jonathan said.
"Nigeria is still safe for investment. Nigeria is one country where… investment returns are quite high and where we believe in the rule of law." With 70 percent of the population below the age of 35, Nigeria offers a vibrant market for investors, he added.
At one of the meetings the president signed a memorandum of understanding with German company, Siemens on how to bring a lasting solution to the nation's power problems.