President Mohammed Morsi has welcomed his call for a 15 December referendum on a controversial draft constitution.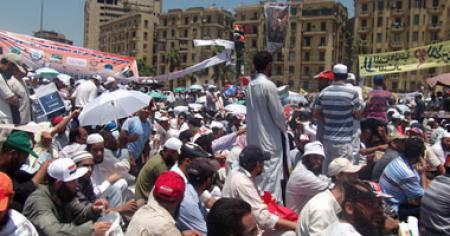 A large rally of Islamist supporters at the Cairo University cheered the announcement yesterday night.
But opposition figures vowed to fight  against the draft document, which they say undermines basic freedom.
Egypt's highest court is expected to rule later today on the legitimacy of the assembly that agreed to the draft.
Even if the supreme constitutional court were to go as far as deciding to disband the Islamist-dominated constituent assembly, it is unclear whether that would affect the planned 15 December referendum.
Mr. Morsi called on "all Egyptians" to take part in the referendum, whether or not they agree with the draft.
His announcement was greeted at the Cairo rally, with the crowds chanting "The people support the president's decision!"