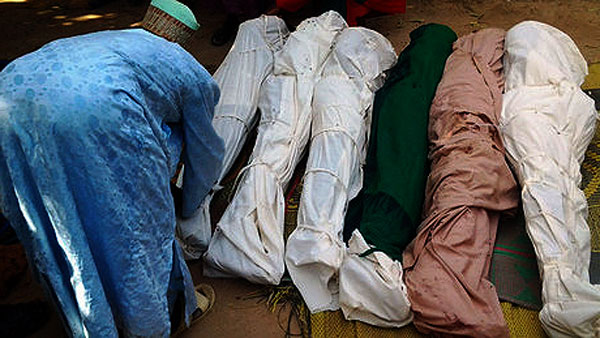 Yobe state governor Ibrahim Gaidam has visited Government Secondary School Mamudo 24 hours after unknown gunmen had attacked and killed twenty students and one teacher in the school.
The State Commissioner of Education Alhaji Mohammed Lamin informed the governor that two more students later died while on admission in the Potiskum General hospital as the death toll rose to 24, adding a resident of Mamudo who was traced to his home and killed shortly after the attack on the school.
According to the commissioner, the hoodlums assembled the students before shooting at them from different directions as the students scampered to safety.
Governor Ibrahim Gaidam who was visibly touched by the killings described it as inhumane and noted that God will expose the perpetrators and sponsors of the dastard act.
Governor Ibrahim Gaidam called on the security forces to change their modus operandi in checking the activities of the dreaded Islamists to end the ceaseless attacks in the state and the north-east zone as a whole.
He also called on the Chief of Defense Staff and the security forces to as a matter of urgency consider the restoration of GSM services in the three states under the state of emergency as residents are finding it difficult to report perpetrators of the acts to relevant authorities as residents who has information to divulge to security agents are not able to reach the JTF.
He said in the two separate attacks on schools in the state, it was reported that residents saw the hoodlums at suburb of Damaturu the state capital but JTF could not be reached because of the absence of GSM services.
Governor Ibrahim Gaidam also revealed that boarding schools in the state will be fenced as the Joint Task force will provide the needed security across all schools in the state.
Yesterday's attack has brought the number of schools attacked by the insurgents to two.
The three states under state of emergency have been without the services of the GSM networks all with the aim of curtailing the grouping and regrouping of the insurgents.
Meanwhile, the Yobe state governor Alhaji Ibrahim Gaidam has directed that all secondary schools in the state be closed down from Monday 8th July until a new academic session begins in September.
A statement signed by the Special Adviser to the governor on Media and Information Abdullahi Bego shortly after returning from Mamudo says "the measure is to allow government in collaboration with the Military Task Force and community leaders to evaluate and evoke better and additional strategies that would ensure the safety of and security of students and their teachers".