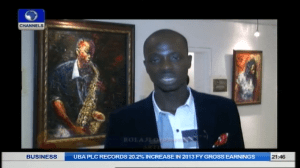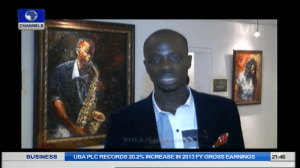 Bolaji Ogunwo presented a feast of paintings for art enthusiasts in his exhibition titled Visual Cocktail.
A large crowd turned out to check out his recipes which he put on acrylic on canvas in over 20 paintings with titles such as 'The Flight, Smile, Pensive, The Chase and many other works of art.
Bolaji Ogunwo, who is intrigued by people, events and different scenes, uses the impasto technique and his palette knife skillfully to interpret the theme of survival, love, passion and more.
Bolaji Ogunwo told Channels Television that "every piece has a tale to it and words of wisdom from great minds such as Henry Longfellow, Ralph Emerson, George Washington and many others.