Nigeria, China Strengthen Bilateral Ties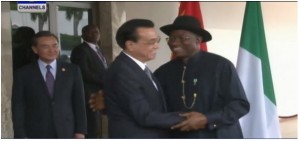 Nigeria and China have agreed to maintain the momentum of exchanges of visits at all levels and further collaborate in areas of infrastructure, financial services, trade and investments and agriculture.
Leaders of both countries on Wednesday held talks at the Presidential Villa in Abuja, Nigeria's capital where China reassured Nigeria of its support in the war on terror.
At the meeting, President Goodluck Jonathan and the Premier of the People's Republic of China, Mr Li Keqiang, discussed how both countries could maintain mutual understanding and trust by exploring visit exchanges between government functionaries, political parties and legislatures.
President Jonathan reiterated Nigeria's commitment to the one-China policy while the Premier expressed firm support for Nigeria's efforts to safeguard its national sovereignty, security and territorial integrity as well as promotion of economic development.
The Chinese Premier, Mr Li arrived at the Presidential Villa and was accorded a warm reception by President Goodluck Jonathan, as officers and men of the guard's brigade filed out for inspection.
After the ceremony, the two leaders entered into the President's office for bilateral talks that lasted for about an hour.
A communique was released after the meeting, with President Jonathan expressing excitement about support in the area of security.
The visiting Premier, through an interpreter, promised to work with Nigeria to ensure safety of the investments so far established.
The visit coincided with the World Economic Forum On Africa which Nigeria is hosting.
He will also participate in discussions during the World Economic Forum on Africa and sign six bilateral agreements with top government officials.
China's support to Nigeria in the area of security is needed at this time that the nation is tackling insurgency in the north east.
The Boko Haram sect had claimed responsibility for several attacks on villages, churches and schools in the north east, with a recent attack on a community, Chibok, resulting in the abduction of over 200 school girls.
The abduction had triggered protests in different states in Nigeria and in some countries with a "Bring Back Our Girls" demand.