Dana Airline Crash Victim Yet To Get Compensation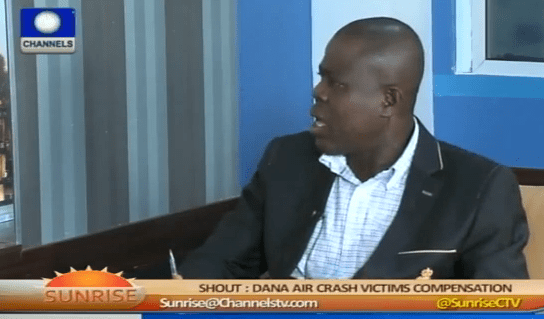 One of the victims of the Dana Airline crash of June 3, 2012, Daniel Omowumi, has revealed that he was yet to be compensated for the loss he suffered on the day of the crash.
Describing his ordeal on Channels Television's Sunrise, Mr. Omowumi stated that as a result of the Dana Airline aircraft which crashed into a residential area in Lagos, he lost four houses and a fish pond.
Omowumi, who escaped death because he was in church on the day of the crash, alleged that the airline had shown signs that it was not willing to compensate him for his losses.
Although the case had been taken to court, he revealed that the airline has refused to take his case seriously despite his lawyer having written to them.
"My lawyer has been writing to them and they have not replied. It is so clear that they don't want to pay because every document that they have asked for has been provided to them", he noted.
He further stated that he had met with the management of the Airline who gave assurances of the company getting him back to the state he was before the crash incident but unfortunately no word had since come from them.
Mr. Omowumi also revealed that he had written to the House Committee on Aviation and also the Ministry of Aviation to come to his aid but was yet to also get any word from them.
He reaffirmed his determination to get compensation from the airline.