Human Rights Lawyer; Bamidele Francis Aturu Rests Finally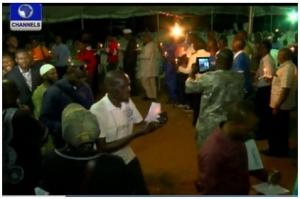 The pain of loosing a loved one is evident in their eyes, reality stares them in the face as they begin activities for the final journey of their beloved father, husband and human right lawyer, Mr Bamidele Francis Aturu.
His wife Adebimpe and children were joined by human rights activists, lawyers, jurists, labour leaders, members of civil society organisations and a host of others at a service of songs held in his honour at the Redeemed Christian Church of God Agege in Lagos.
He spent some of his 49 years on earth defending the common man, a legacy he would be remembered for, for a very long time.
Hymns and songs of mourning were all that they sang, as the evening drew near.
The service of song came to an end and that was immediately followed by a candle light procession and solidarity night.
The next day his body was taken to Ogbagi in Akoko, Ondo State, for the funeral service.
Bamidele Aturu was born on October 16 1964. He began his early education in Gbongan primary school in Osun State and later attended Methodist High School Okitipupa Ondo State for his secondary education.
He studied law at the Obafemi Awolowo University in  Osun State.
Until his death on July 9, he was a pastor of the Redeemed Christian Church of God and a human right activist.
Among the popular cases he handled was the one involving Yoruba actor Babatunde Omidina popularly known as Baba Suwe and the NDLEA. Suwe was accused of drug trafficking but the NDLEA lost the case.
After the service, his remains was taken to his final resting place.
Left to mourn him are his wife, Adebimpe, children, aged parents, siblings and other relatives.