British National Contracts Ebola In Sierra Leone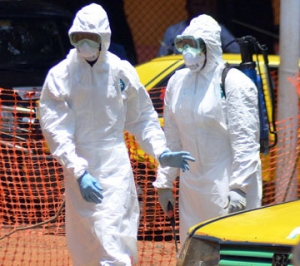 A British national living in Sierra Leone has tested positive for Ebola Virus, the first Briton to fall victim to the deadly disease that has spread across the West African region since March, the Department of Health said on Saturday.
The World Health Organization (WHO) estimates that the current Ebola epidemic – the world's worst ever with 1,427 documented deaths – will likely take six to nine months to halt.
Some aid organisations, including medical charity Medecins Sans Frontieres, have warned that the outbreak, which began in Guinea before spreading to Sierra Leone, Liberia and Nigeria, is now out of control.
The WHO conceded on Friday that the hiding of victims and the existence of "shadow zones" where medics cannot go had concealed the true scale of the epidemic.
Britain's Deputy Chief Medical Officer, John Watson, confirmed a British national was among those suffering from Ebola and said medical experts were assessing the situation in Sierra Leone to ensure appropriate care was provided.
"The overall risk to the public in the UK continues to be very low," Watson said in a statement.
No further details about the British national were immediately available, and it was not known whether there were plans to evacuate the patient.
Ebola, which is passed on by direct contact with the bodily fluids of infected persons, strikes hardest at healthcare providers and caregivers who work closely with those infected. Dozens of local doctors and nurses have died from the virus in recent months.
Two American aid workers, who contracted Ebola in neighbouring Liberia and were then evacuated, recovered from the disease and were released from a hospital in the United States earlier this week.
Fear, stigma and denial have led many families to hide their infected loved ones from health officials. In other instances, patients have been forcibly removed from treatment facilities and isolation centers, creating the risk of the disease's further spread.