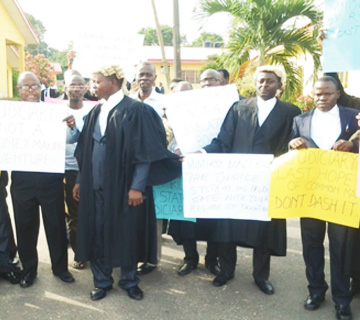 The Judicial workers in Ondo State under the aegis of the Judicial Staff Union of Nigeria (JUSUN) have embarked on an indefinite strike to press home their demands from the state Judicial Service Commission (JSC).
The major demand of the striking workers was that the magistrates should not hold administrative positions, which they insist are meant for the registrars.
Both the premises of the Ondo State Customary Court of Appeal and the State Judiciary Headquarters in Akure, the state capital, were deserted in compliance with the strike of the judicial workers. The gates which led to both premises were locked, with no worker on site.
According to the State Vice Chairman of JUSUN, Kikelomo Iyiola, the union was demanding for the change of the nomenclature 'Registry Assistant' given to polytechnic graduates instead of 'Registrar' as applicable to their university counterparts.
She said that Ondo State was the only state where they were being referred to as registry assistants, and this has been rejected by members of the union.
The State Secretary of  the Judicial Staff Union of Nigeria (JUSUN), Toye Ilesanmi, on his part enumerated some other demands of the union. Some of the demands include issues bordering on alleged maladministration of the Chief Judge, Justice Lasehinde Kumuyi, as well as judiciary staff being denied promotions.
The striking members in JUSUN have vowed not to return to their duty posts until all their demands are met.