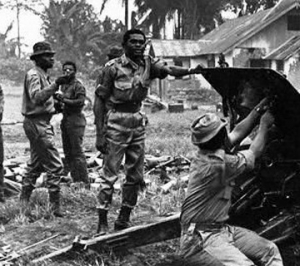 The Nigerian Civil War Army veteran, Retired General Benjamin Adekunle, popularly known as Black Scorpion has died.
Retired General Adekunle died Saturday morning in Lagos, Nigeria's south-west region at the age of 78.
General Adekunle was born in Kaduna. His father was a native of Ogbomosho, while his mother was of the Bachama tribe.
He underwent secondary education at the Government College, Okene, in present day Kogi State.
He enlisted in the Nigerian Army in 1958 shortly after completing his school certificate examinations. 
He passed the Army selection examinations and thereafter was despatched to the Royal Military Academy, Sandhurst in the UK, the British Army's initial officer entry academy.
He was commissioned 2nd Lieutenant on December 15, 1960.