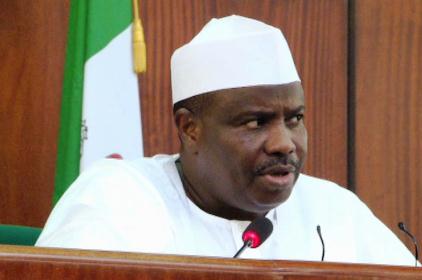 All the security details attached to the Speaker of the House of Representatives, Aminu Tambuwal, have been withdrawn by the Federal Government of Nigeria.
The Chairman of the House Committee on Media, Zachary Mohamed, confirmed this on Thursday.
A press release issued by the Police Force Public Relations Officer, Mr Emmanuel Ojukwu, cited the recent defection by Aminu Tambuwal from the PDP to the APC as reason.
Part of the statement read, "…having regard to the clear provision of section 68(1)(g) of the 1999 Constitution of the Federal Republic of Nigeria as amended, the Nigeria Police Force (NPF) has redeployed its personnel attached to his office."
Sources said that at about midnight on Thursday, top level security report informed the Speaker that "orders have been given for the withdrawal of his security details".
As the number four citizen of the Country in the hierarchy of protocol, the Speaker is entitled to a round-the-clock security made up of men from the Police, Civil Defence Corps and the Department of State Security (DSS).
The withdrawal of the Speaker, Aminu Tambuwal's security details comes less than 24 hours after he was formally presented as a member of the All Progressives Congress, APC, during the party's extraordinary national convention held in Abuja, the Nation's capital on Wednesday, October 29.
This was following the Speaker's announcement of his decision to leave the ruling People's Democratic Party, PDP, for the opposition on the floor of the House on Tuesday.
Tambuwal told the party members that he embraced the APC platform because he saw it as a veritable instrument for genuine change and enduring national development, adding that "APC represents the hope for the change" which Nigerians have been clamouring for.