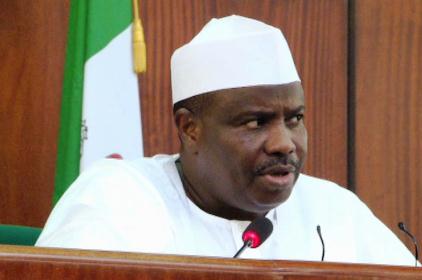 The Speaker of the House of Representatives, Aminu Tambuwal, has been formally presented to the members of the All Progressives Congress, APC at the national level, with a promise to dedicate himself to the party's promise of change.
This was during the party's extraordinary national convention held in Abuja, the nation's capital on Wednesday, October 29.
This is following the Speaker's announcement of his decision to leave the ruling People's Democratic Party, PDP, for the opposition on the floor of the House on Tuesday.
The APC National Chairman, John Oyegun, while eulogizing Tambuwal, referred to him as the man who became the country's number four citizen owing to the leadership qualities he displayed in the House of Representatives.
"He was new to the National Assembly and within a few hours, he was able to build a bridge between the PDP and the opposition parties and that was how he became the number four citizen of our nation," Oyegun said.
While presenting the broom, which is the APC's symbol to Tambuwal, Oyegun said that the party expects him to use the broom to "sweep away all the cobwebs that have tied the nation down to poverty and misery."
Starting out with a passionate chant of his new party's slogan, Tambuwal expressed joy at the opportunity to be part of the "APC family".
He said, "To the glory of God, come May 29th 2015 we shall sweep away…" as the APC was the party he believes "shall deliver the country from the evil it has been plunged into by a certain cabal".
"I've been overwhelmed by the massive outpouring of goodwill and welcome that I have received from the members of our great party and other well-meaning Nigerians since the formal notification of my membership of APC.
"In appreciation of your warm hand of fellowship, I hereby rededicate myself to the task of building and growing our party and helping our party achieve its mission of lifting Nigeria to glorious heights and restoring hope to the citizens of our great country," he said.
Highlighting the party's promise to deliver "a new Nigeria", he stated, "The APC is the party where the progressive ideals of good governance, to which I subscribe, are wholeheartedly embraced and applied for the betterment of Nigeria.
"I have embraced the APC platform as a veritable instrument for genuine change and enduring national development," he said, adding that "APC represents the hope for the change" which Nigerians have been clamouring for.
"The programmes of the APC are very attractive and will bring about radical changes in the way we do business in Nigeria, the kind of change Nigeria truly needs."
He also asked for the support of all Nigerians for the All Progressives Congress to achieve its vision for Nigeria.
The event was attended by top APC members from across the country, including former Head of State and APC presidential aspirant, General Muhammadu Buhari.