A structural engineer, Professor Eugene Mojekwu, has stressed the need for the Nigerian government to be more diligent with law enforcement to reduce the rate of building collapse.
Professor Mojekwu expressed strong conviction that with adequate law enforcement, the errors that could lead to building collapse could be identified and corrected.
He said that the process – from conception to the completion of the construction – was quite involved in the issues of building construction and collapse.
"Each step of that process must be done properly or you could have issues.
"As a structural engineer, you do not have a second chance to do it write. You can only do it right once.
"It starts with the design process, when the owner has decided to build something based on an agreed master plan. It goes to an architect, who designs the building and creates the forms to fit the function of the building and then brings in his consultants," he said.
The structure engineer said structural engineers made sure the buildings should be able to withstand the loads it will carry by performing necessary calculations which would be transferred to drawings.
"The drawings will go to municipality who will review what we have done. It is supposed to be someone with experience and adequate training and if the review agrees with what we have done, it will be approved," he explained.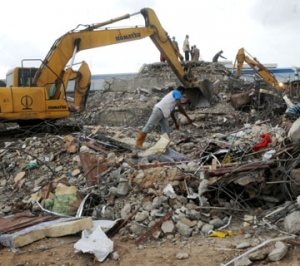 In construction process, the contractors must adhere to specifications and builders are expected to build strictly in accordance with specifications.
Over the years there have been reports that builders cut corners in Nigeria in trying to save cost. This has resulted in several cases of building collapse.
Some months ago, a guest house in the premises of the Synagogue Church of All Nation in Ikotun area of Lagos State collapsed, killing at least 80 persons.
The said stories building was still under construction while some floors were already in use for housing guests.
Professor Mojekwu emphasised that it was wrong to add additional floors to a building, exceeding what had been approved.
The church had said the number of floors that was approved was more than what was already constructed.
"So many elements can go wrong at that time. The pillars are meant to support a certain amount of load the same thing as the foundation. So additional floor will be added weight, exceeding what was approved," Professor Mojekwu explained.
He also pointed out that a lot of mistake could be made at the point of construction, stressing that the amount of water to be added to the concrete mix must not exceed supposed amount.
"We should have a requirement where there has to be a qualified testing agency on site to monitor the placement of reinforcing steel, the concrete mix and other materials. The government needs to be a little more diligent in enforcing laws," he said.