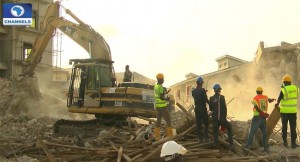 The Lagos State Government is set to commence the prosecution of suspects linked to the collapse of a five-story building on Tuesday March 8, 2016 in Lekki area of the south-west Nigeria state, which led to the death of 30 persons.
A statement by the Lagos State Attorney-General and Commissioner for Justice, Mr Adeniji Kazeem, said the office of the Attorney-General has concluded its legal advice and ready to prosecute a total of nine suspects deemed culpable in the collapse of the building.
"Following the conclusion of investigation by the Nigerian Police Force and technical reports of relevant Experts, my Office has concluded its Legal Advice and decided to prosecute the suspects for failure to obtain Planning Permit contrary to the provisions of the Urban and Regional Planning and Development Law, Ch. CU2 and Involuntary Manslaughter contrary to the provisions of the Criminal Law of Lagos State, Ch. C17, Laws of Lagos State, 2015 respectively," the Attorney-General said in the statement.
The property being built by Lekki Gardens Estate Limited and Get Too Rich Investment Limited known as Horizon 1 Extension, House H15, Lekki, Lagos State collapsed at about 05:00 a.m. local time, claiming the lives of 30 people.
Kazeem reiterated the commitment of the Governor Akinwunmi Ambode-led administration to protecting the lives and property of residents of Lagos State and assured the general public that it would leave no stone unturned to ensure that criminal negligence and any form of crime is duly brought to book.