Court Refuses To Make Interim Order Against Use Of Card Readers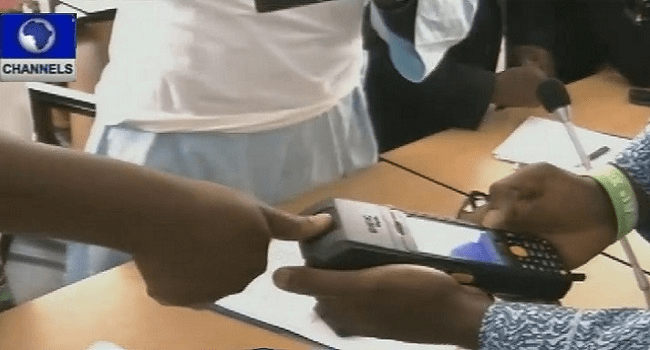 A Federal High Court in Nigeria's capital, Abuja, has refused an application brought by four registered political parties, seeking to restrain the electoral commission from using Smart Card Readers in the conduct of the general elections.
The United Democratic Party, Action Alliance, Allied Congress Party of Nigeria and Alliance for Democracy filed the suit.
The parties, through their counsel Alex Iziyon, told the court that the proposed use of the readers was contrary to the provisions of the constitution, as well as the amended 2010 Electoral Act.
In the suit, the political parties challenged the powers of the Independent National Electoral Commission (INEC) to introduce a process not specifically provided for in the constitution, as it prepares for the rescheduled polls.
Mr Iziyon told the court that the Electoral Act, in section 52(1), prohibited electronic voting, but that the electoral body had gone ahead to introduce electronic voter's card reader.
The counsel urged the court to temporarily restrain the INEC from implementing the use of the card reader machine in the forthcoming elections, pending the determination of the suit.
He further urged the court to bridge the time within which INEC would be allowed to file a response, in view of the nature of the case which according to him had a robust electoral jurisprudence.
In his ruling on the exparte motion, the trial judge, Justice Adeniyi Ademola, noted that the political parties had shown that they had legal rights, showing that the case is triable, but observed that the parties would not suffer any irreparable harm if the electoral body is given the opportunity to be heard before the interim orders being sought could be granted.
Consequently, the court declined to make any interim orders against INEC on the proposed use of the Smart Card Readers.
However, it abridged the time for INEC to file its response to four days, after receiving court papers on the matter.
Hearing on the substantive motion on notice was thereafter adjourned until Tuesday, Mar 10.
INEC To Test Card reader
In a statement on Monday, the INEC said it will conduct a field testing of the functionality of the Smart Card Readers to be deployed for the accreditation of voters on Election Day. The General Elections was re-scheduled for March 28 and April 11.
According to the Commission's Decision Extract issued on February 26 and signed by the Director of the Commission's Secretariat, Ishiaku Gali, the field testing will take place in two states of each of the six geopolitical zones of the federation.
He said the testing would take place simultaneously on Saturday, March 7.
The states selected for the exercise are: Ekiti and Lagos, South West; Anambra and Ebonyi, South East; Delta and Rivers, South South; Kano and Kebbi, North West; Bauchi and Taraba, North East; Niger and Nasarawa, North Central.