What You Missed This Weekend
The entertainment scene was abuzz over the weekend,starting from Lupita's stolen dress that was later recovered to Toyin Lawani's pool birthday party,Toyin Aimakhu's statement on PDP,Yemi Alade's tour, Sharon Osbourne's exit from Fashion Police.

Below is full gist of events:
Lupita Nyong'o's Dress Returned
Lupita Nyong'o's pearl-studded dress to the 2015 Oscars Award ceremony made news during and after the event as it was stolen from her hotel room a few days after. The dress which was estimated at $150,000 was stolen from her hotel room but what was more interesting was…
The thief returned the Calvin Klein custom dress because the 6000 white Akoya pearls on the dress were FAKE!
The thief, on Friday afternoon said he took 2 of the pearls down to the Garment District in L.A. and learned they were fake and also declared that the $150,000 Calvin Klein dress made of over 6,000 pearls is almost worthless.
That was when he returned the dress to the scene of the crime.
Toyin Lawani Pool Birthday Party
Fashion entrepreneur Toyin Lawani's had her birthday on Sunday and to celebrate, the mother of two showed off her custom made two piece bikini made of Swarovski stones.
Aimakhu Can Die For PDP?
Actress Toyin Aimakhu has taken her support for PDP to the next level. The actor told a gathering of youths on Sunday that "she can die for PDP".
Lots of twitter users who watched the event also affirmed the statement.
Luda's Baby On The Way
Rapper, Ludacris and Eudoxie have a baby on the way.
The couple who married recently, announced they were expecting their first child together with a beachy baby bump pic.
The couple are expecting a baby less than three months after their Christmas Day wedding.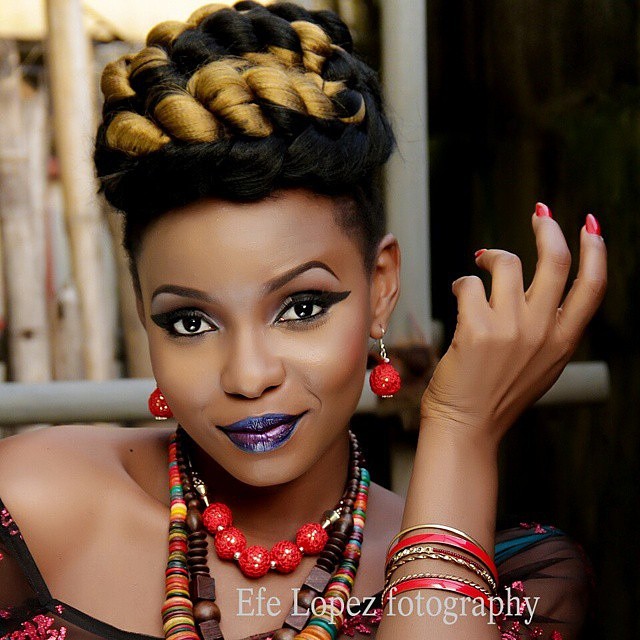 Yemi Alade Took New Photos 
The 'Johnny' singer is best known for her catchy tunes and unique style.
Her braided hair is becoming a signature, and she wears it well in this new photo shoot by Efe Lopez Fotography.
Over the weekend, Yemi thrilled her fans in both Germany and Fans.
Sharon Supports Daughter Kelly Osbourne For Quitting Fashion Police
Sharon Osbourne has weighed in on daughter Kelly quitting Fashion Police following the Zendaya race row.
Taking to Twitter on Friday, Sharon wrote: "I am so proud of you. You can never be bought. You always wear your heart on your sleeve. #ProudToBeYourMum."