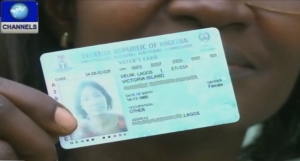 Today marks the deadline for the collection of the Permanent Voter Card (PVC) across all 36 states of the Nigerian Federation as well as in the Federal Capital Territory, Abuja.
The electoral umpire, Independent National Electoral Commission (INEC) had extended the distribution and collection exercise of the Permanent Voter Cards (PVCs) by two weeks when the general election was postponed from February 14 and 28 to March 28 and April 11.
INEC said on its website that of the 68,833,476 registered voters only 56,350,776 representing 81.87 percent had collected their PVCs, as at March 17.
On March 19, the Chairman of INEC, Professor Atahiru Jega confirmed the readiness of the electoral body to conduct the 2015 general elections scheduled to take place next week.
Professor Jega gave the assurance at a meeting with Civil Society Organisations in Abuja to assess INEC's preparedness for the conduct of the elections, which is expected to begin on March 28.
The umpire has however stressed that citizens will only be allowed to vote provided they have their PVC, despite calls from several
quarters that the Temporary Voter Card (TVC) be used as an alternative.
Hence, it is imperative that the PVC is collected.
This is also backed by a court ruling which struck out a suit filed by a group, Society for Advancement and Protection of Public Rights, seeking an order to stop the Independent National Electoral Commission (INEC) from exclusively using the Permanent Voter Cards for the conduct of the forthcoming general elections.