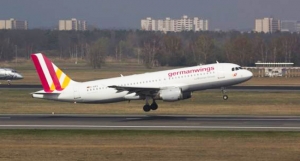 French investigators say they believe the co-pilot of the Germanwings plane that crashed into the French Alps on Tuesday wanted to destroy the aircraft.
Citing information from the "black box" voice recorder, a Marseille prosecutor, Brice Robin, said on Thursday that the co-pilot was alone in the cockpit.
He said that the German citizen, now identified as 28-year-old Andreas Lubitz, intentionally started a descent while the pilot was locked out.
He was left in sole control of the Airbus A320 after the captain left the cockpit, refused to re-open the door and pressed a button that sent the jet into its fatal descent, the prosecutor told a news conference broadcast on live television.
The Marseille prosecutor told the news conference in Marseille that the co-pilot did this "for a reason we cannot fathom right now but which looks like intent to destroy this aircraft."
Robin added that sound recordings from one of its black boxes also suggested most of the passengers would not have been aware of their fate until the very end.
"Only towards the end do you hear screams," he said. "And bear in mind that death would have been instantaneous … the aircraft was literally smashed to bits."
Robin said the family of the co-pilot had arrived in France for a tribute alongside those of the victims but was being kept apart from the others.
German authorities are expected to give further information on the pilot's background and private life later.