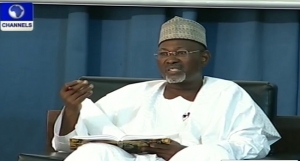 The Chairman of the Independent National Electoral Commission (INEC), Professor Attahiru Jega, has expressed confidence that the decentralisation of distribution of election materials for the 2015 elections would cut off logistic challenges at the forthcoming polls.
Professor Jega said this at a meeting with the former President of Liberia and head of the AU delegation, Professor Amos Sawyer.
Professor Jega told the African Union (AU) election observers in Abuja that this method was not used during the 2011 general elections, hence the late commencement of accreditation and voting at polling units across the country.
The issue of logistics had always posed a major challenge at the polls.
Professor Jega admitted that there were challenges in the methodology of distribution which spiraled into widespread agitations from the electorate.
He added that the electoral body was still growing and would plug all loop holes in future elections.
Jega also urged election officials to ensure that counting of ballot papers after the voting process is done transparently in the presence of local and international observers. He has also warned security personnel against any form of intimidation.
Professor Jega received a letter from the Chairperson of the AU Commission, Dr Nkosazana Dlamini Zuma, who promised full support to the nation at this time.
INEC has almost concluded the distribution process nationwide less than 48hours to the polls.