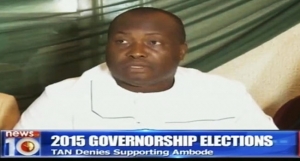 The Transformation Ambassadors of Nigeria, TAN, has denied news making the rounds that their Coordinator, Ifeanyi Ubah, is to lead a delegation of Igbo leaders to the palace of the Oba of Lagos in solidarity with the APC governorship candidate, Akinwumi Ambode.
Mr. Ifeanyi Ubah said that it was malicious and uncharitable to link him with such moves knowing his support for the PDP.
He added that the PDP has given its members in Lagos the opportunity to be legislators at the federal level and so it wasn't time to dump the party.
The Coordinator of TAN and six newly elected House of Representatives members in Lagos, just barely a week after they got their mandate, called a press conference, to address the issues bothering them.
They said that they were being taunted for supporting the PDP.
"I was inundated with calls and text messages that I am leading some Igbo leaders to His Majesty's palace – Oba of Lagos, to endorse Ambode Akinwumi.
"I want to state categorically that this is untrue. I Dr. Ifeanyi Ubah or management of TAN have not endorsed Akinwumi as at today, 5th of April 2015," Mr Ubah said.
TAN held a mega rally just days before the presidential election, where they demonstrated their support for the PDP but there have been questions regarding their loyalty after the APC won the presidential election.
Mr Ubah exlained: "I want to state that I have been threatened. My family and my business have been threatened.
"While considering that I have no skeleton in my cupboard and I have no regrets for the role and the support I have given to Dr Ebele Goodluck, I want to make it clear that I have reported these threats to the appropriate authorities and to international communities and agencies for record purposes and necessary action.
"It is my wish that all politicians will emulate the statesmanship act displayed by Mr President during the just-concluded presidential election."
In a few days, the governorship elections would hold across the states of the federation. This is an event touted to produce many surprises but the TAN Coordinator says they are PDP in spirit, soul and body, at least for now.