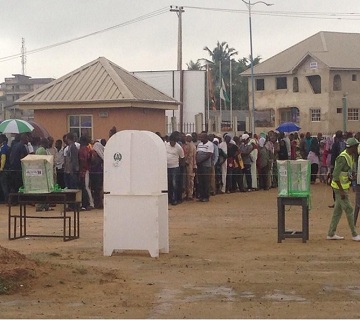 The European Union Observation Mission and some civil society groups have expressed concern over the severe cases of violence and alleged manipulation in some states in Saturday's governorship and House of Assembly elections.
In its 2nd preliminary statement on the 2015 general elections, the EU Observer Mission urged the Independent National Electoral Commission to launch investigations into these cases.
The EU Chief Observer, Mr. Santiago Fisas said despite lack of evidence of centralised systematic fraud at the elections, some attempts at manipulations were observed which necessitates further investigations by the electoral body.
Mr. Fisas, however, noted that the overall process during the April 11 elections was more efficient compared to the presidential and parliamentary elections but lamented the rise in violence and attempted manipulation of the process in some states.
The spokesman for the Nigeria Civil Society Situation Room, Mr. Clement Nwankwo said multiple cases of electoral misconduct in Abia State, violence in Rivers State and partisan interference in Akwa Ibom State call for scrutiny of final collated results from the three states.
The groups also condemned the involvement of prominent public office holders, politicians and INEC officials in what they termed 'organised misconduct and disorderly behaviours' in the April 11 elections.
They noted that steps must be taken to investigate all such cases and prosecution of those found culpable.