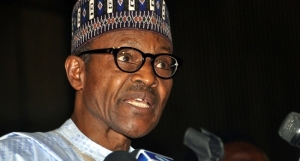 Nigeria's President-elect, General Muhammadu Buhari, says he will drop the title "General" from his name immediately after being sworn-in on May 29, 2015.
General Buhari, through his Adviser on Media and Publicity, Mallam Garba Shehu, unveiled in a one paragraph statement on Sunday, that he would like to be known after the swearing as, Muhammadu Buhari, President, Commander-in-Chief of the Armed Forces.
The statement also noted that the Vice President-elect would also be officially referred to as Professor Yemi Osinbajo (SAN), Vice President, Federal Republic of Nigeria.
The Minister of Information, Patricia Akwashiki, had earlier stated that May 29 remains the date for the handover of governance from President Goodluck Jonathan to the President-elect, General Muhammudu Buhari.
Mrs Akwashiki made the clarification at the end of a Federal Executive Council (FEC) meeting, presided over by President Jonathan.
Muhammadu Buhari, born December 17, 1942, is a retired Major-General of the Nigerian Army. He was Head of State of Nigeria from December 31, 1983 to August 27, 1985, after taking power in a military coup d'état.
The Independent National Electoral Commission (INEC) declared him winner of March 28 presidential election on the platform of the All Progressives Congress (APC), defeating the incumbent, President Goodluck Jonathan of the Peoples Democratic Party (PDP).
He had contested unsuccessfully for the office of President in the 2003, 2007 and 2011 elections.
A native of Daura in Katsina State, north west Nigeria,  Gen. Buhari is of the Fulani ethnic background. He is a Muslim of the Sunni Islam.