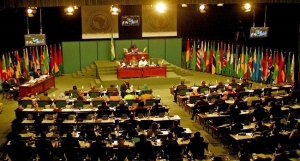 The 6th Ordinary session of the 3rd Pan African Parliament has begun in Midrand near Johannesburg, South Africa.
The meeting, with the African Union aligned theme of Women Empowerment, is expected to discuss some pressing issues which include xenophobia, migrant deaths and insecurity.
Kenya's President, Uhuru Kenyatta, a special guest at the opening session did not stop at listing the continent's various challenges.
He suggested that good governance, bridge building beyond lip service, intra-African trade, jobs for youths and tackling the roots of insecurity would bring desired good to Africans.
Last month, at least seven persons were killed in South Africa in xenophobic attacks that started in Kwazulu-Natal province. Locals were demanding that foreigners should leave their communities.
An influential Zulu King, Goodwill Zwelithini, was accused of fuelling the xenophobic attacks after local media quoted him as saying that foreigners should leave South Africa.
In West Africa, a terrorist group, Boko Haram, has attacked communities in Nigeria, Niger Republic and Cameroon in the last few years.
They are attempting to establish an Islamic State in the region, with their strong hold in north-east Nigeria.
A Multi-National Joint Task Force was established to tackle the dissidents group, but they have continued to attack towns and villages in Nigeria's north-east.