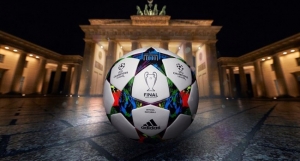 Italian side, Juventus and Spanish giants, Barcelona have arrived in Berlin, the site of Saturday's UEFA Champions League final.
Hordes of journalists and cheering fans gathered outside the Hotel Regent in the city centre to greet the Juventus players as they stepped off their coach before entering the hotel.
Dressed in suits, most of the players were also wearing dark sunglasses, but goalkeeper Gianluigi Buffon and forward Carlos Tevez waved to the crowd as they passed.
Juve held a training session in the afternoon, as they honed their skills in the hope of thwarting Barca's formidable attacking trio of Lionel Messi, Neymar and Suarez.
Barcelona have arrived in berlin,
Following the two-and-a-half-hour flight, Barcelona's plane landed at Berlin Schönefeld Airport for the encounter.
Luis Enrique's side are seen by many as overwhelming favourites in the Champions League final.
With the La Liga and the King's Cup trophies in the bag, victory in the Champions League final would see Barca equal their treble success of 2009.
Ahead of the final, Lionel Messi had said in an interview with UEFA that a tough task awaits Barcelona against Juventus in the final.
"We know we are up against really tough opponents, a powerful side, they are a great club and its a final, anything can happen but we're prepared," the Argentine forward said.