Volcanic Eruption Forces Indonesia To Close 5 Airports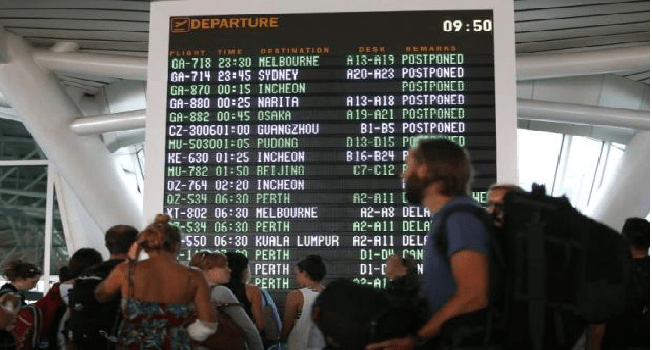 A volcanic eruption in Indonesia has led to the closure of five airports including the tourist Hotspot Bali.
Mount Raung in east java has been spewing ash into the air for nearly a week, obscuring visibility at Bali's Denpasar airport.
For a second day, many flights between Bali and Australia have been cancelled, leaving several travelers stranded.
The island is a top holiday destination for Australians.
A spokesperson for State Airport Operator, Angkasa Pura said, Denpasar would be closed until late hours of the day.
However, Indonesian transport ministry official Ja Barata, said the re-opening of the airports would be based on the activity on Mount Raung, which is about 120km (75 miles) from Denpasar airport.
The four other affected airports are the International Airport in Lombok, Selaparang Airport also in Lombok, Blimbingsari Airport in Banyuwangi, East Java and Notohadinegoro Airport in Jember, East Java.
Scores of flights have been postponed indefinitely or cancelled by airlines, including Jetstar and Virgin Australia who have halted all flights in and out of Denpasar Airport.