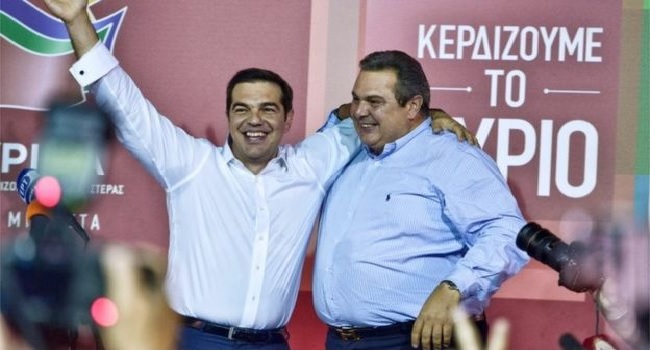 Greece's left-wing Syriza Party has won its second general election in less than nine months.
Leader of the Party, Alexis Tsipras, said that Greeks face a difficult road and recovery from the financial crisis that has engulfed the country in recent time.
Syriza won just over 35%, slightly down on its previous result while Conservative New Democracy won 28%.
Still short of a majority, Syriza is expected to form a coalition with the Nationalist Independent Greeks.
Sunday's snap election was called after Syriza lost its majority in August. This followed the signing of an unpopular new financial bailout deal with international creditors.
Critics wondered whether it was worth holding a contest which left Greece with the same government as before. But Syriza's leader, Alexis Tsipras, is now in a stronger position, his decision to accept austerity measures in return for bailout cash apparently vindicated by the result.
Yet celebrations have been muted with hundreds not thousands gathering to sing, dance and wave flags. The country has tougher times ahead; tax rises, perhaps further cuts to wages and benefits.
Before the election, Tsipras said that he had put his country above his party, adding that had he not agreed to the three-year bailout, Greece would probably have had to leave the Eurozone.