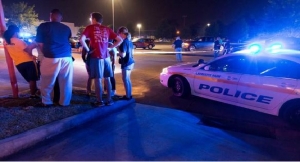 A lone gunman has killed two people, injured seven others before shooting himself inside a crowded movie cinema in Lafayette, Louisiana, on Thursday evening.
The gunfire erupted during a 7 p.m. show of the film "Trainwreck" and took place almost three years to the day after a massacre at a cinema in Aurora, Colorado, that killed 12 people.
Lafayette Police, said two people died in the hail of bullets before the 58-year-old suspect killed himself with a handgun, as officers rushed to the scene shortly after 7:30 p.m.
"There were about 100 people inside the cinema at the time of the shooting," a police official said.
Seven people were wounded with injuries ranging from non-life-threatening to critical.
A witness, Tanya Clark, told Sky News that she had been buying popcorn when a group of people ran out of the cinema telling everyone to run.
She added: "I thought it was just teenagers playing a little prank, you know, and then I saw a whole other bigger group coming out screaming the same thing".
"And then we saw a lady with blood all over her leg. I just grabbed my child and ran".
Authorities said they knew the gunman's identity but were not releasing his name during the early stage of the investigation. They offered no immediate motive and did not disclose any clues they might have found.
Police officials said that bomb-sniffing dogs had alerted on a backpack inside the cinema and that they had also signalled "suspicious" items inside the suspect's car. A robot was being used to probe the vehicle further.
Investigators also headed to the gunman's home. His body remained inside the cinema several hours later. None of the victims, who were described as ranging in age from teens to early 60s, were immediately identified by authorities.
Witnesses said the gunman abruptly stood up in the darkness of the cinema about 20 minutes into the movie and began shooting.
Louisiana Governor, Bobby Jindal, said: "There's no good reason why this type of evil should intrude on the lives of people who are just out for entertainment."
"As governor, as a father and as a husband, whenever we hear about these senseless acts of violence it makes us both furious and sad at the same time".
Jindal added that two of the wounded victims were teachers and one of them managed to pull a fire alarm in the cinema after being shot.