Troops Rescue At Least 30 Boko Haram Captives In Dikwa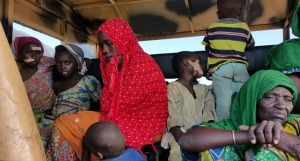 Nigerian troops have rescued at least 30 persons from the insurgents in Kwayabe and Wufe wards in Dikwa Local Council Area of Borno State in Nigeria's north-east.
The rescue by the Seven Division of the Nigerian Army is coming after last Friday's liberation of the area after a fierce battle with the dreaded terrorists in the ongoing 'Operation Lafiya Dole' onslaughts.
The feat was revealed by the Deputy Director of Army Public Relations, Seven Division, Colonel Tukur Gusau, on Monday.
He explained that the rescued were 21 children, a six-day old infant, seven women, including three nursing mothers and two elderly male adults.
"Troops also discovered a training shed inside the vandalised and looted Palace of the Shehu of Dikwa, where weapon handling and engagement of Aircraft were being thought to new Boko Haram recruits", Gusau said.